Starting off with the templates of drum and bass but tweeking them beyond recognition, Lesser's music delivers crunchy snares and overdriven bass frequencies with a heaping helping of skeptical humor, gritty digital noise, and DIY instrument-building ingenuity. Soldering together new instruments out of the refuse of 80's mixers and synths, J Lesser avoids the standard sounds and strategies in favor of a confrontational, schizophrenic and often hilarious rethinking of conventional "intelligent" electronic dance music.
Touring extensively with Thrill Jockey's post-rock darlings A Minor Forest, Lesser built up notoriety on the electronic underground. Now the mainstream press is crashing the party: Lesser's side project DISC garnered a rave review from legendary rock critic Richard Meltzer, who called it "the greatest work of electronic sound manipulation since Steve Reich's tape experiments". Well! Lesser's annihilation of drum and bass frameworks has also caught the attention of the in-the-know folks at SPIN magazine, who singled out his "Welcome to the American Experience" release in its recent profile on the San Diego label Vinyl Communications as an outstandingly fresh and unpredictable work of American electronica.
Covering Public Enemy and Merzbow with equal aplomb, Lesser straddles the division between the drum and bass and noise scenes. Dropping a fiendish live mixture of beats and improvised freakouts that manages to win over members of both camps, Lesser has recently collaborated with Japanese noise guru K. K. Null. The wide variety of labels and artists currently seeking tracks and remixes from Lesser indicates the diversity of his approach: elite experimental electronic labels like Chicago's Kultbox and Scotland's Diskono! have joined the line of interested parties, and Lesser has put his own perverse remixing stamp on everything from the polished, poppy indie-jungle of Junior Varsity to the apocalyptic grindcore of Belgian extremists Agothocles. Playing guitar in the Metallica cover band Creeping Death with the members of A Minor Forest, Lesser's got chops for days, and the sense not to put musical muscularity in the way of a good time. Perhaps the hours spent decoding those riffs and solos shows through in the programming finesse, texture and attention to detail you'll find in the average Lesser song- who knows? Either way, a Lesser show is a surefire way to slap (hard), tickle, baffle and amuse, and a must for fans of electronic music, post-rock and noise.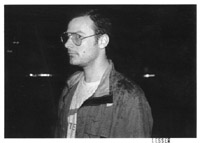 J Lesser spent formative years in the indie-rock wastelands of San Diego, playing in bands with members of Heavy Vegetable, Optiganally Yours, Crash Worship, Physics and A Minor Forest. 1999 finds Lesser touring with pals Matmos in Europe and the United States, where they are slated to play with such alt.electronica.gods as Trash (Brighton), Kid-606, K.K. Null, Marumari, Electric Company and v/vm.